SPORTS
Dharmadam has contributed many sports personalities from olden days . Even now it continues to. In earlier days there were many 'kalari payattu' centers existing in this village. Kalari masters were famous for 'marma chikilsa'. Gymnasiums and Yoga centers were held successfully. Apart from this many more traditional games were held. Chulliyum kolum, talama games, kotan kallu games, chadugudu, khotikali, roundans, chatti kali, kannampottu kali, eerkil kali,nirakali, vaara kali, etc. are among them. The present generation of children are not aware of these games.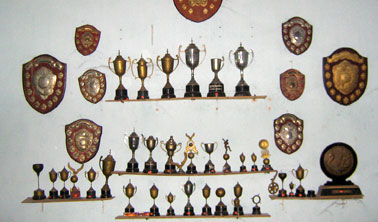 Even before India got independence, people from this village were famous for football and volleyball. 1950-80 was the golden era in the history of Dharmadam football. During 1970s women's also started playing football in Dharmadam and many girls from this village have represented Kerala state and India.

There are two main play grounds in this village. They are Koorara ground and Ambedkar colony ground. Dharmadam Grama Panchayat succeeded in getting the ownership of Koorara ground from the State Government and now it is being developed as a Mini stadium. Apart from these two grounds with the effort of Human Resource Management Ministry, Delhi and Palayad Govt. Higher Secondary School Sports Development committee, a ground has been developed in the compound of the said school.


For the past many years in District Athletic Meets and in District Sports Meets, Palayad Govt. Higher Secondary School has been the overall champions.

In recent times younger generation in this village have shown interest in chess. Ms. Sheena E and Ms. Shabina E have got prizes in Chess tournaments in the State and National levels.

Some of the sports clubs in the Dharmadam Village are:
CK Balan Memorial Sports Club
Diamond Sports Club
CP Youngmens Sports Club
Dharmadam Cricket Club
Sreenarayan Sports Club
Fighting Brother, Andalur
Eagle Sports Club
VKS Sports Club
Kickers Sports Club
Bharat Sports Club
Ozhayil Bhagam Sports Club