about us
Dharmadam is a village in Kannur district of Kerala, India. It is surrounded by the Anjarakandy river on three sides and by the Arabian sea on the fourth side. It is situated between Thalassery and Kannur. Dharmadam is at times referred to as the land of theyyams and circus. Andalur Kaavu, one of the very famous 'kaavus' in northern kerala is situated in Dharmadam village. Muzhappilangad beach, Kerala's only drive in beach is about 200 meters north of Dharmadam. Dharmadam Island is a small 2 hectare island lies 100 metres from the mainland at Dharmadam. This island, covered with coconut palms and dense bush is a beautiful sight from the Muzhappilangad beach. During low tide, one can walk out to it from the beach.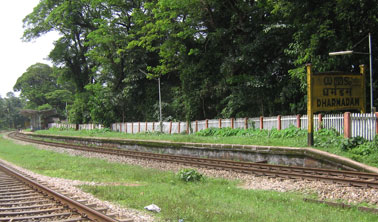 General Info
Panchayat Name
: Dharmadam Gramapanchayat
Taluk
: Thalassery
District
: Kannur
Assembly constituency
: Dharmadam
Area
: 10.68 sq.km.
Wards
: 18 Nos.
Panchayat President
: Baby Saroja Teacher
Vice President
: P Rameshan
BORDERS
North
: Anjarakandy River
South
: Anjarakandy River
East
: Anjarakandy River
West
: Arabian sea
Population
: 29,169 (According to 2001 Census)
Men : 47.17%
Women : 52.83%
Literacy
: 100%
Nearest Railway stations
: Dharmadam
Thalassery - 5 KM.
Kannur - 15 KM.

Nearest Airport
: Karipur International Airport - 100 KM

There are 5 public libraries and 9 reading rooms available in this village.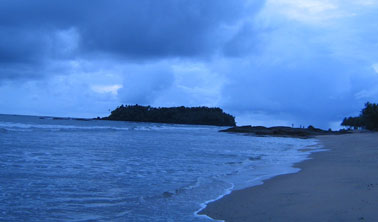 There is one Industrial Estate situated in Palayad, Dharmadam. Around 39 Small Scale Industries running in this estate. Apart from this there are number of other small industrial units located in Dharmadam. Ice factory, printing press, matchbox company, die making, milk products production, textile industry etc. are among them.